The Murder of Lauren Willet by the Manson Clan
By Paul Dale Roberts, HPI General Manager
www.hpiparanormal.net
EVP Captured at 720 E Flora – Sounds like 'Stay Away'?
http://www.youtube.com/watch?v=0CCbWs9P5Jo&list=HL1342771660&feature=mh_lolz
http://s970.photobucket.com/albums/ae185/PaulDaleRoberts55/720%20Flora%20St%20in%20Stockton/
Pictures of 720 Flora Road in Stockton and some of the people that we interviewed, see link above.
Hi,
Thanks for giving me a call back. This is for a one hour show for the XXXXX Channel that we are producing on the Manson murders.
Here is a write up on James and his wife Lauren.
"On November 8, 1972, the body of 26-year-old Vietnam Marine combat veteran James T. Willett was found by a hiker near Guerneville, California.[68] Months earlier, he had been forced to dig his own grave, and then was shot and poorly buried; his body was found with the one hand protruding from the grave and the head and other hand missing (likely because of scavenging animals). His station wagon was found outside a house in Stockton where several Manson followers were living, including Priscilla Cooper, Lynette "Squeaky" Fromme, and Nancy Pitman. Police forced their way into the house and arrested several of the people there, along with Fromme who called the house after they had arrived. The body of James Willett's 19-year-old wife Lauren "Reni" Chavelle [69] Olmstead Willett was found buried in the basement. [68] She had been killed very recently by a gunshot to the head, in what the Family members initially claimed was an accident. It was later suggested that she was killed out of fear that she would reveal who killed her husband, as the discovery of his body had become prominent news. The Willetts' infant daughter was found alive in the house. Michael Monfort pled guilty to murdering Reni Willett, and Priscilla Cooper, James Craig, and Nancy Pitman pled guilty as accessories after the fact. Monfort and William Goucher later pled guilty to the murder of James Willett, and James Craig pled guilty as an accessory after the fact. The group had been living in the house with the Willetts while committing various robberies. Shortly after killing Willett, Monfort had used Willett's identification papers to pose as Willett after being arrested in an armed robbery of a liquor store.[69] News reports suggested that James Willett was not involved in the robberies[70] and wanted to move away, and was killed out of fear that he would talk to police. After leaving the Marines following two tours in Vietnam, Willett had been an ESL teacher for immigrant children."
The wife was buried under the floorboards at 720 Flora St. Stockton
while James was found in Guerneyville, CA
see information below
http://www.eviliz.com/2012/03/stockton-murders-timeline-of-what-took.html
JAMES' BODY FOUND: Russian River resort community of Guerneville, in Northern California,
http://www.eviliz.com/2011/09/guerneville-ca-in-search-of-james.html
I hope this helps you find the area where he was found. It would have been under the jurisdiction of Sonoma County sheriff who took his body after a hiker found it.
They may have more on the location. If you even get close to the area you might pick up something or maybe the husband's ghost is back at their house on 720 East Flora St.
Thanks for your help.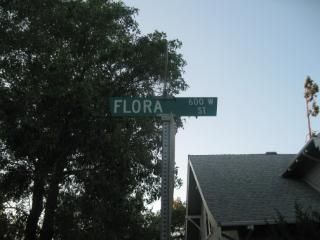 PS.
Has anyone you know done anything on the Black Dahlia case- seen her ghost or the ghost of her killer?
Thanks again
XXXXXX
Code: ATICHELMERZP
OUR INVESTIGATION:
Chantal Apodaca and I on July 19, 2012, Thursday went to 720 East Flora Street to interview the occupants and the neighbors. The occupants were not home. After several attempts at getting an EVP on the outside perimeters of this home, I did capture a female voice that can be heard on the video. Chantal was not talking at the time and it's not her voice. Could this be the voice of Lauren Willit?
Neighbors we interviewed are Kathleena Bouslog who lives directly across the street from 720 East Flora Street. Kathleena has never witnessed any paranormal activity at the home, but she has experienced her doorbell ringing at 3am. Kathleena has lived in the neighborhood since February of 2012.
Earl Hughes has not witnessed anything paranormal, but his significant other says that her doorbell also rings at 3am. Earl and his significant other live right next door to 720 East Flora Street.
Chantal and I interviewed Scott and Monica Walter. They know about the history of the house, but have not witnessed anything paranormal. Scott is very much into the paranormal and told me that his grandpa fell to the curse of Bodie and brought home a rusty nail dated in 1958 and fell to the Bodie curse with a massive heart attack and died. He was 72 years old. Scott has witnessed a UFO once zipping around erratically around New Melones Lake.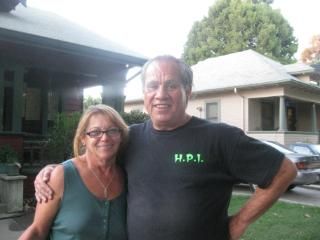 But, back to the investigation. I believe there is residual haunting at 720 East Flora Road, we may have possibly obtained an EVP and it appears that two neighbors are experiencing their door bell ringing at 3am. Could it be Lauren trying to escape her brutal murder by running to the neighbor's home and ringing their door knobs for help? The energy did feel very odd at this home and at one point of time Chantal felt an ice cold tugging on her arm. When this occurred, I felt a cold breeze go through my body. It does appear that Lauren is a restless spirit, a spirit that is having a hard time understanding why she was murdered.
BELOW ARE HPI UPDATES, NEWS AND GOSSIP!
On this day, July 19, 2012, HPI Paranormal Investigator Becky Cardenas came over to the house and brought over her drawings of the Demon Warrior to Chantal Apodaca. The drawings will be used in my 3rd HPI book called HPI Chronicles: Beyond the Norm. The drawings are incredible! Thank you Becky!!
Becky Cardena's Bio for the Book Will Say:
My name is Becky Cardenas and I have lived in the Central Valley of California all of my life. I have been a migrant worker at a young age. I am an avid seeker of the arts, music and the paranormal. Especially I am a proud parent of three adult children: Cesar, Michael and Rachel. God Bless America!
Paul Dale Roberts, HPI Esoteric Detective
aka The Demon Warrior
Haunted and Paranormal Investigations International
www.hpiparanormal.net
http://www.knighttalkradio.blogspot.com/
Managed by Staci Butler, HPI Twitter Account Manager/HPI Senior Lead Investigator
http://alldestiny.com/index.php/paul-dale-roberts/
My Bio Link at Ceri Clark's All Destiny Magazine!
Email: pauld5606@comcast.net
Cellular Paranormal Hotline Investigation or Advice: 916 203 7503