---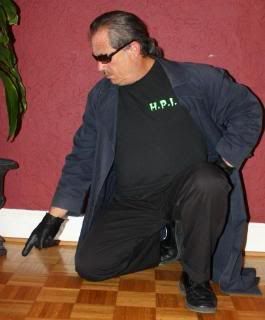 HPI INVESTIGATOR INFORMATION
By Paul Dale Roberts, HPI General Manager
www.hpiparanormal.net
916 203 7503 / pauld5606@comcast.net

WE HAVE 14 INVESTIGATIONS!

SCHEDULE:

April 28, Saturday 9pm: Activity and History: Former female occupant died in the bedroom, then the male husband occupant slipped in the hallway and died, he was dead for a week in this house, before anyone realized it. He owned a 62 T-Bird, the occupant that now lives there also owns a 62 T-Bird. When occupant has his head near kitchen cabinets, they will open and hit him in the head. Address to be at: Stockton, CA
Paul Dale Roberts and Lizzy Silva are guests for the Lori Schulz Radio Show! Talking about my Costa Rica trip!

CLOSED: May 5 Saturday 9pm: – 5 people can go. Address: Villa Serano Apartments. Activity: Child has night terrors, sees entitie. Baby bottle moves on its own. Bathroom doors close on its own. Blinds move on their own. Lid of garbage can flies off on its own. Past occupant practiced Voodoo. Bring Nidia Holmes. Investigators: Deanna, Kara, Jon, Big Al, Nidia.

May 11, Friday 9pm: Contact: Jennifer Activity: Their daughter age 8 is seeing a tall apparition in the kitchen and walking down the hallway. Daughter is scared of the bedroom. Occupant (mother) feels she is being constantly watched. Address to be at: Sacramento 95841 – Added note: Rumor is that there is a little boy that died in the backyard, in a swimming pool. They have dug up toys that had belonged to a little boy. Credit to: Tiffany Ensign Gonzales for this investigation.

May 12, Saturday 9pm: Contact: Victoria Gabelein Credit for this investigation: Rebecca Lorenzana. Activity and History: 1940s home, 2 story. Mom's husband sees entities in the home. The child that resides at home is scared. Strange noises heard constantly. Door closes by itself. Address to be at: Antioch, CA

May 18 6:30pm Ione Hotel – Event open to the public, ghost hunt, seance, karaoke, seance. A public event, not a scouting mission.

May 19, Saturday: PRIVATE INVESTIGATION IN LINCOLN.

May 25, Friday 9pm: Contact: Patty Zloczewski
Address to be at: Woodland, CA 95776 Activity: Entities shake the bed, the dog sees them all the time and is scared to death. One night the entity actually held down the dog and the dog could not get up from the floor.

TWO INVESTIGATIONS OF TWO PRIVATE RESIDENCES!
May 26, Saturday 1pm: Contact: Cilla On this day, we are going to be very busy. We have 2 homes to investigate. The first one is at: Acampo, CA 95220. The house is 16 years old. The occupants hear whispering sounds, the children are scared, they actually captured the whispering noises on a recorder, footsteps are heard, doors sound like they are closing, when they are not, there are sounds of items being moved around. After this investigation, then we are headed over to Galt, at this home, a figure of a man is seen, cigar smoke resonates throughout the house, stepfather was held down in his bed and the occupant's sister was also held down in her bed. Interesting note: Occupant knows two people I know, Chantal Apodaca and Lizzy Silva. Lizzy and Chantal do not know each other, but are connected to the occupant Cilla. Small world we live in.

TWO INVESTIGATIONS OF TWO PRIVATE RESIDENCES!
June 2 Saturday 8pm: Address to be at: Sacramento, CA 95815 – Contact: Cynthia Activity: phones are constantly played with, unplugged, relocated, etc. Occupant felt something going up her leg. One night in bed, something tried to smother her. She will feel nauseated for no reason. She saw an apparition in the hallway, dressed in 1800 style of dress. There was once a horse ranch on her property, that dates back to the late 1700s. After we investigate Cynthia Quint's home, we are investigating her neighbor's house. Two investigations in one night!

June 9, Saturday 1pm ONLY 7 CAN GO: Address: Chico CA. Activity: Things flying off shelves, apparitions seen, toys go off on their own, little girl heard laughing, apparition of a little girl seen and her hair is falling off while she is running, floating circles seen, numerous socks are moved from closet and displayed in a circle around the baby's crib, shot glass flew off the shelf. History: a little girl did drown in the apartment complex swimming pool 2 years ago.

June 16 Saturday 11pm: Contact: Katie Address to be at: Oroville, CA 95966. Activity & History: We are going to meet the occupant at the Casino and following her to her home on an Indian reservation. Activity: lights turn on by itself, dogs go crazy as if they are seeing things, activity heavy at 3am. Black figures and shadows seen. Occupant has dreams of the devil. Cleansing needed: American Indian cleansing and Catholic Blessing.

CLOSED: June 23, Saturday 4pm: Moss Beach Distillery Restaurant – Carolann Castro – Sponsor – There will be a BBQ before the investigation. This is a POTLUCK BBQ! So, please bring something to contribute to the potluck. Place to be at: (Investigators should have the BBQ location, but if you don't – call me at 916 203 7503)
Moss Beach Distillery is the same place Ghost Hunters investigated, see Wikipedia information:
http://en.wikipedia.org/wiki/Moss_Beach_Distillery
This is a Soulseekers/HPI Event, limited to only 17 investigators.
Carolann and 3 Soulseekers are coming. The Rubsam clan – which is 5 are coming. Deanna Bailey and Jon & Kara are coming, Chantal Apodaca is coming, I'm coming, Rachel Rodriguez & Becky Cardenas are coming. Big Al is coming. THE PEOPLE LISTED, ARE THE ONES THAT ORIGINALLY RESPONDED TO MY MASS EMAIL, I AM GOING BY THE RESPONSE FROM MY MASS EMAIL WHEN I ORIGINALLY PUT THIS OUT, NOT BY THE FACE BOOK EVENT PAGE. Very important! The manager of the restaurant may ONLY want 5 or 8 at a time inside the establishment investigating, the rest of us will be outside searching for the Blue Lady. So, please be prepared to be outside. Carolann has a surprise for us afterwards, she is taking us somewhere else after this investigation. Please investigators, when I send out a mass email and I need a response quickly, I need exactly that. There are some more investigations coming up, in which I will need responses. So please pay attention to your emails. I apologize for the investigators that are excluded from this investigation, but we must honor the wishes of the manager/owner.

June 30, Saturday 2pm: Smartsville, CA Credit: Chantal Apodaca\
Small town, we should not get lost and we can all meet at the Smartsville Grocery. Known haunted location, no articles have been written about the haunted activities of this town. It's only an hour and half ride.